GreenSync's deX Powers Up in South Australia
As the electricity industry moves to manage the surge in solar PV, batteries and electric vehicles connecting to the grid, GreenSync in partnership with global brands is launching a new model that ensures grid protection while unlocking more benefits for households.
With support from the Government of South Australia, GreenSync's decentralised energy exchange 'deX' is digitally registering customer-owned devices like batteries and solar PV, providing much-needed visibility and emergency control to utilities.
deX also enables customers to easily join virtual power plants or 'VPPs' to better manage their electricity bills and get more value from their investment.
---

With the participation of global battery and solar brands combining with electricity retailers, enrolment in virtual power plants is set to become easier and faster for smart device owners.

---
The Hon Dan van Holst Pellekaan MP, Minister for Energy and Mining said "We congratulate GreenSync on their launch of deX in South Australia. This exciting project received support from our Demand Management Trials program, to help accelerate our transition to a smart, digital power system. By making it easier for consumers to get more value from their home batteries and electric vehicles by being part of virtual power plants, we can help support the grid whilst reducing their power bills."
Echoing Minister van Holst Pellekaan's endorsement, GreenSync Executive Chair Mark Woodall said: "This project takes us 'beyond trials' by leveraging inherent capabilities in our technology and those of our partners that will support customers in getting more value from their investment – and at the same time – make the grid more sustainable".
"We are thrilled to announce participation and eligibility for the project's registration incentive for customers purchasing Alpha ESS, Enphase, Fronius, GoodWe, Growatt, SENEC, Solar Analytics, Solax Power, Solis, Sungrow or Wattwatchers systems."
"We are equally proud to confirm our foundation retail partners; Amber Electric, Discover Energy, Powershop and Simply Energy who will develop VPP offers designed to unlock value for services from participating, eligible technologies."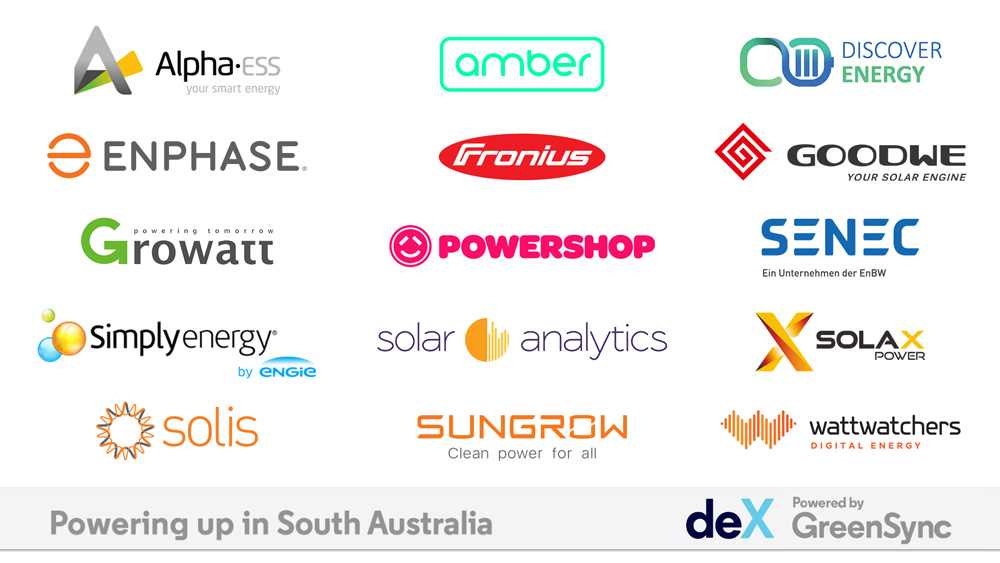 "This is just the start. We look forward to progressing with these partners and others to enable more renewables to be connected to the grid by smart device-owning customers."
"Clearly, South Australia is at the cutting edge for both enabling solar and storage to generate value for users while at the same time protecting the grid through better management. This approach is sure to be followed by other states in Australia in 2021." concluded Mr Woodall.
"Our job as a manufacturer is to make solar technology continuously more accessible so that installers want to carry our brand. With deX, we only need to integrate once to allow Enphase systems to interact with both networks and retailers. This is a smart, simple approach with great benefits for our customers" said Mr Johnston, General Manager APAC at Enphase Energy.
---

The project will help to grow and diversify the state's growing VPP cohort across technology types and builds on South Australia's existing "VPP ready" requirements established under the Home Battery Scheme.

---
The project aims to register at least 5,000 devices by end 2021 and will support registration from smart, controllable devices including batteries, solar PV, EV charging technology. By participating:
Customers can benefit from being able to view and assess VPP offers in one place and from accessing value for services delivered via their retailer VPP, making energy service contracting accessible and scalable across many, many products

. 

Retailers can benefit by operating VPPs that can access deX Certified brands and products, simplified 3rd party licencing arrangements, deX applications and tools to accelerate installer or technology vendor-led registration and enrolment activities. 
Alongside this new project, GreenSync is supporting global brands including Enphase, GoodWe, Growatt, Sungrow today, and SENEC, Solis, and Fronius in 2021 to meet South Australia's Smarter Homes compliance requirements; enabling solar PV inverter control and dynamic limits using deX.
Importantly, with the launch of the deX South Australia project, there is a path to go beyond compliance impacts on solar owners to VPP value unlocked by our API.
This project marks a practical step in bringing compliance and grid resilience forward to enable benefits to flow to customers and make the state's energy system sustainable.