Like any marketplace, deX software facilitates an exchange between market participants.
deX lists buyers and sellers, records agreements between them, manages event handling and verifies both parties met their obligations.
With deX you can:
Install and register deX ready devices
Aggregate devices into a portfolio
Publish your energy capacity requirements
Respond to an energy tender
Create contracts ready for energy events
Dispatch devices for an energy event
Monitor and verify services and dispatches
Confirm settlement and support
Our Application Programming Interface (API) has been established to standardise the protocols for registration and communication between the deX and DER assets.
Through the API, developers can create and manage contracts, activate resources, provide meter readings, verify and pay for energy exchanged. The deX API also provides relevant information so that third party apps can be developed to integrate software and hardware with the exchange.
Getting started with deX as a developer
The deX API document provides the expected JSON request and response bodies for each API endpoint, along with examples of how to interact with the API.
If you are interested in getting a copy of the official deX API (version 1.0) please register your interest in becoming a partner. A representative from our parent company GreenSync will be in touch.
There are three steps involved in preparing energy assets to interact with deX.
1. Get deX Ready
deX Ready means a device is certified to work with the deX. The deX Ready specification assesses: the type of device, it's energy characteristics, communication, and control ability. A deX Ready device can be registered, connected and dispatched using the deX. This certification ensures technology providers are able to advertise products as being ready to work with deX.
Getting deX Ready involves:
Completing an expression of interest to become a deX partner with a deX ready device.
Assessment of whether the device meets industry standards for reliability, communication, control and power input/output (whether real power kW or reactive power kVA).
Inspection and testing of the device, and classification based on test results.
2. Get deX Registered
A deX Registered device has been installed, and information on its characteristics, location, and national metering identifier have been recorded on the deX platform. The device has been tested to confirm it is able to be communicated with and controlled remotely.
Getting deX Registered involves:
An agreement between the utility and the resident on business with the device(s) on site.
Installation of the deX Ready device(s) with details of deX Ready device recorders in the installer app.
Local testing of the deX device(s) by an installer.
Acceptance from the utility, based on confirmation that information has been received and all required tests have been successful.
3. Get deX Contracted
Being deX Contracted means there is an agreement is in place between a device owner and the person buying the capacity generated by that device. The contract stipulates the terms and conditions associated with the deX Contracted device, and is managed through the deX API.
deX Contacted agreements may include information on:
Terms: Agreement to provide service (incorporating availability, firmness etc).
Conditions: Restrictions around compliance with physical network infrastructure, legal or other requirements.
Settlement: Agreed mechanisms to monitor and verify dispatch and provide payment.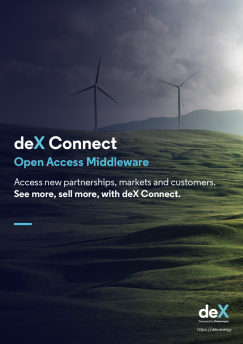 Your key to the global market for distributed energy.
For technology vendors and OEMs.
It's your introduction to deX Connect – its context, how it works, and how you can get started, today.
Learn how other Technology Vendors, like Wattwatchers Digital Energy, are using deX Connect to connect customers and market value streams.